Locking / unlocking from the inside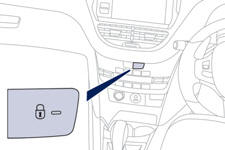 Press the switch.
This allows the doors and the boot to be locked or unlocked.
If one of the doors is open, the doors are not locked.
When locking / deadlocking from outside
When the vehicle is locked or deadlocked from outside, the switch does not operate.
After normal locking, pull the interior door lever to unlock the vehicle.
After deadlocking, you have to use the remote control or the key to unlock the vehicle.
Automatic central locking of the doors
The doors can lock automatically while driving (speed above 6 mph [10 km/h]).
To turn this function on or off (on by default).
press and hold the button until there is an audible signal and/or a message in the screen.
Driving with the doors locked may make access to the passenger compartment by the emergency services more difficult in an emergency.
See also:
The touch screen: intuitive connectivity
In keeping with its time, consistent with the new ergonomics of its instruments and controls, the Peugeot 208 will offer the majority of its customers, that is from the 2nd level of the range (i.e ...
Advice on child seats
in a vehicle compromises the child's protection in the event of an accident. Remember to fasten the seat belts or the child seat harnesses keeping the slack relative to the child's body to ...
Locations for installing ISOFIX child seats
In accordance with European Regulations, this table indicates the options for installing ISOFIX child seats on seats in the vehicle fitted with ISOFIX mountings. In the case of universal and semi-u ...