Monochrome screen A (without Peugeot connect sound (RD5))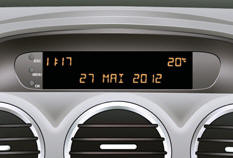 Displays in the screen
Depending on the context, displays:
- time,
- date,
- ambient temperature with air conditioning (the value if there is a risk of ice),
- trip computer,
- alert messages,
- parameter settings menus for the screen and vehicle equipment.
Controls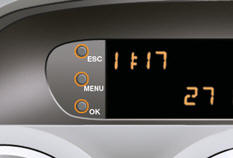 Three buttons are used to control the the screen:

- "ESC" to abandon the operation in progress,
- "MENU" to scroll through the menus or sub-menus,
- "OK" to select the menu or submenu required.
Main menu

Press the "MENU" button to scroll through the various menus of the main menu :
- vehicle configuration,
- options,
- display settings,
- languages,
- units.
Press the "OK" button to select the menu required.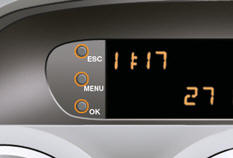 Vehicle configuration

Once the "Vehicle configuration" menu has been selected, you can activate or deactivate the following equipment:
- wiper linked with reverse gear (see "Visibility"),
- daytime running lamps (see "Visibility"),
- rear parking sensors (see "Driving").
Options
Once the "Options" menu has been selected, you can start diagnostics on the state of the vehicle (current alerts).
Display settings
Once the "Display settings" menu has been selected, you can gain access to the following settings:
- year,
- month,
- day,
- hour,
- minutes,
- 12 or 24 hour mode.

Once you have selected a setting, press the "OK" button to change its value.

Wait for approximately ten seconds without any action to allow the changed data to be recorded or press the "ESC" button to cancel.
The screen then returns to the normal display.
Languages
Once the "Languages" menu has been selected, you can change the language used by the display (Français, Italiano, Nederlands, Portugues, Portugues-Brasil, Deutsch, English, Espanol).
Units
Once the "Units" menu has been selected, you can change the units of the following parameters:
- temperature (°C or °F),
- fuel consumption (l/100 km, mpg or km/l).

For safety reasons, configuration of the multifunction screen by the driver must only be done when stationary.
See also:
Panoramic sunroof
Component which has a tinted glass panoramic surface to increase the light and visibility in the passenger compartment. Fitted with an electric blind in several sections to improve temperature and ...
A low consumption and ultra-efficient version
Pulling together the very essence of the A9 project by reviewing every aspect of design, the low consumption version achieves an aerodynamic performance (Cx de 0,29 ) thanks to the optimisation of ...
Airbags
System designed to maximise the safety of the occupants (with the exception of the rear centre passenger) in the event of violent collisions. It supplements the action of the force-limiting seat b ...