Retractable colour screen (with peugeot connect navigation (RT6))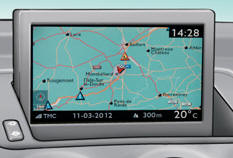 Displays in the screen
Displays according to context:
- time,
- date,
- altitude,
- ambient temperature (the value displayed fl ashes if there is a risk of ice),
- parking sensor information,
- audio functions,
- telephone and contacts information,
- satellite navigation system information,
- alert messages,
- menus for settings of the screen, navigation system and vehicle equipment.
Controls
From the navigation system control panel, to select one of the applications:
press the dedicated "RADIO" , "MUSIC" , "NAV" , "TRAFFIC" , "PHONE" or "SETUP" button for access to the corresponding menu,
turn dial A to select a function, an item in a list,
press button B to confirm the selection,
or
press the "ESC" button to abandon the current operation and return to the previous display.

For operation of the retractable screen (opening, closing, adjustment of the position, etc.), refer to the "Access to the retractable screen" section.
"SETUP" menu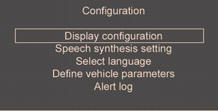 Press the "SETUP" button to gain access to the configuration menu:
- "Display configuration",
- "Voice synthesis",
- "Choice of language",
- "Vehicle parameters",
- "Alert log".

For safety reasons, configuration of the multifunction screen by the driver must only be done when stationary.
Display configuration
This menu allows you to choose a colour scheme for the screen, to adjust the brightness, set the date and time and choose the units for distance (km or miles), fuel consumption (l/100 km, mpg or km/l) and temperature (°Centigrade or °Fahrenheit).

When setting the time, you can select " Synchronise minutes with GPS ", so that the minutes are set automatically by satellite reception.
Voice synthesis
This men allows you to adjust the volume for navigation instructions and to choose the type of voice (male or female).
Choice of language
This menu allows you to choose the language used by the screen (French, English, Italian, Portuguese, Spanish, German, Dutch, Turkish, Polish, Russian).
Vehicle parameters
This menu allows you to activate or deactivate certain driving and comfort equipment, arranged by category:
- Parking assistance

- Operation of wipers
● Enagages rear wiper linked to reverse (Rear wiper operates in reverse gear; refer to "Visibility"),
- Lighting configuration (see "Visibility"):
● Duration of the guide-me-home lighting,
● Directional headlamps (main/ additional directional lighting),
● Mood lighting (Interior mood lighting),
● Daytime running lamps function **.
Alert log
It lists the active alerts by displaying their associated messages in turn.
* Depending on version.
** According to country of sale.
See also:
Display in the instrument panel
Gear lever positions N. Neutral R. Reverse 1, 2, 3, 4, 5, 6. Gears in manual mode AUTO. This comes on when the automatic mode is selected. It switches off on changing to manual mode. S. Sport ...
Letting your body drive
Out on the road, you soon become aware that the small steering wheel does dominate much of the experience. You don't need to twirl your arms as much. You feel like a racing driver on B-roads, neve ...
Panoramic sunroof
Component which has a tinted glass panoramic surface to increase the light and visibility in the passenger compartment. Fitted with an electric blind in several sections to improve temperature and ...