Hill start assist
System which keeps your vehicle immobilised temporarily (approximately 2 seconds) when starting on a gradient, the time it takes to move your foot from the brake pedal to the accelerator pedal.
This function is only active when:
- the vehicle is completely stationary, with your foot on the brake pedal,
- in particular conditions on a slope,
- with the driver's door closed.
The hill start assist cannot be deactivated.
Operation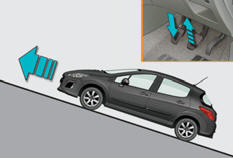 On an ascending slope, with the vehicle stationary, the vehicle is held for a brief moment when you release the brake pedal and you are in first gear or neutral.

Do not exit the vehicle while it is being held in the hill start assist phase.

If you need to exit the vehicle with the engine running, apply the parking brake and ensure that this warning lamp in the instrument panel is on fixed.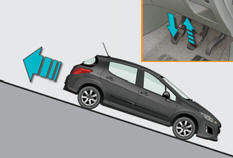 On a descending slope, with the vehicle stationary and reverse gear engaged, the vehicle is held for a brief moment when you release the brake pedal.
Operating fault

If a malfunction of the system occurs, these warning lamps come on. Have it checked by a PEUGEOT dealer or a qualified workshop.
See also:
Head-up display
System which projects various information onto a transparent strip in the fi eld of vision of the driver so that they do not have to take their eyes off the road. This system operates when the ...
Passenger airbag OFF
Refer to the advice given on the label present on both sides of the passenger's sun visor. To assure the safety of your child, you must deactivate the passenger's front airbag when ...
Exiting economy mode
These functions are reactivated automatically next time the vehicle is driven. To restore these functions immediately, start the engine and let it run for at least five minutes. A flat battery pre ...