Ventilation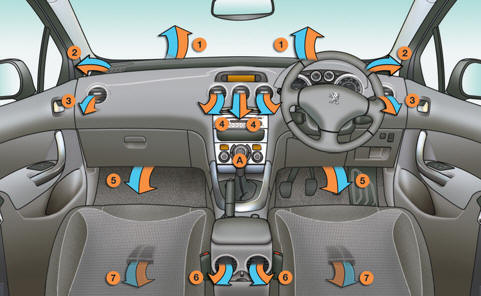 Air intake
The air circulating in the passenger compartment is filtered and originates either from the outside via the grille located at the base of the windscreen or from the inside in air recirculation mode.
Air treatment
The incoming air follows various routes depending on the controls selected by the driver:
- direct arrival in the passenger compartment (air intake),
- passage through a heating circuit (heating),
- passage through a cooling circuit (air conditioning).
The temperature control enables you to obtain the level of comfort required by mixing the air of the various circuits.
The air distribution control enables you to diffuse the air in the passenger compartment combining several air vents.
The air flow control enables you to increase or reduce the speed of the ventilation blower.
Control panel
together on control panel A on the centre console. Depending on the model, the functions offered are:
- level of comfort required,
- air flow,
- air distribution,
- demisting and defrosting,
- manual or digital air conditioning controls.
Air diffusion
1. Windscreen demisting vents.
2. Front side window demisting/defrosting vents.
3. Side adjustable air vents.
4. Central adjustable air vents.
5. Air outlets to the front footwells.
6. Adjustable air vents for the rear passengers.
7. Air outlets to the rear footwells.
See also:
Reactivation
Press the "ECO OFF" switch again. The system is active again; this is confirmed by the switch warning lamp going off, accompanied by a message in the screen. The system is reactivated aut ...
The touch screen: intuitive connectivity
In keeping with its time, consistent with the new ergonomics of its instruments and controls, the Peugeot 208 will offer the majority of its customers, that is from the 2nd level of the range (i.e ...
Closing
Take the blind by its handle and pull it forwards to the required position. ...