Manual air conditioning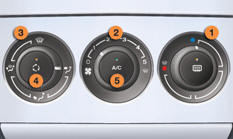 The heating / ventilation or air conditioning systems can only operate with the engine running.
1. Temperature adjustment

Turn the dial from blue (cold) to red (hot) to adjust the temperature to your requirements.
2. Air flow adjustment

Turn the dial from position 1 to position 5 to obtain a comfortable air flow.

If you place the air flow control in position 0 (deactivation of the system), the temperature is no longer maintained at a comfortable level. However, a slight flow of air, due to the movement of the vehicle, can still be felt.
3. Air distribution adjustment

Windscreen and side windows.

Windscreen, side windows and footwells.

Footwells.

Central and side vents.

The air distribution can be adapted by placing the dial in an intermediate position.
4. Air intake / Air recirculation
The intake of exterior air prevents the formation of mist on the windscreen and side windows.
The recirculation of interior air isolates the passenger compartment from exterior odours and smoke.
Return to exterior air intake as soon as possible to prevent deterioration of the the air quality and the formation of mist.

Press the button to recirculate the interior air. The indicator lamp comes on to confirm this.
Press the button again to permit the intake of exterior air. The indicator lamp switches off to confirm this.
5. Air conditioning On / Off

The air conditioning is designed to operate effectively in all seasons, with the windows closed.
It enables you to:
- lower the temperature, in summer,
- increase the effectiveness of the demisting in winter, above 3 °C.
Switching on
Press the "A/C" button, the button's indicator lamp comes on.

The air conditioning does not operate when the air flow adjustment control 2 is in position " 0 ".
To obtain cooled air more quickly, you can use recirculation of interior air for a few moments. Then return to fresh air intake.
Switching off
Press the "A/C" button again, the button's indicator lamp goes off.
Switching off may affect comfort levels (humidity, condensation).
See also:
Changing a fuse
Access to the tools The extraction tweezer is fitted to the back of the dashboard fusebox cover. For access to it: open the glove box lid, push the opening guide to the left to open to beyond ...
Re-generate architecture
Peugeot's theme of "re-generate" is most apparent in the cabin, where we see a very different kind of interior design. There are three core elements. Sit in the driver's seat, and you'll ...
Isofix child seats recommended by Peugeot and approved for your vehicle
FAIR Bimbofi x ISOFIX (size category: C or A ) RÖMER Duo Plus ISOFIX (size category: B1 ) Follow the instructions for fitting child seats contained in the seat manufacturer's installat ...