Automatic adjustment of xenon headlamps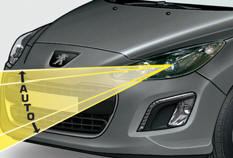 In order to avoid causing a nuisance to other road users, this system corrects the height of the xenon headlamp beams automatically and when stationary, in relation to the load in the vehicle.

If a malfunction occurs, this warning lamp is displayed on the instrument panel, accompanied by an audible signal and a message in the screen.
The system then places your headlamps in the lowest position.

Do not touch the xenon headlamp bulbs.
Contact a PEUGEOT dealer or a qualified workshop.