Automatic adjustment of xenon headlamps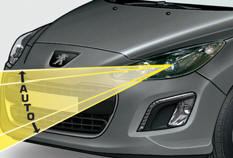 In order to avoid causing a nuisance to other road users, this system corrects the height of the xenon headlamp beams automatically and when stationary, in relation to the load in the vehicle.

If a malfunction occurs, this warning lamp is displayed on the instrument panel, accompanied by an audible signal and a message in the screen.
The system then places your headlamps in the lowest position.

Do not touch the xenon headlamp bulbs.
Contact a PEUGEOT dealer or a qualified workshop.
See also:
Boot lamp
This comes on automatically when the boot is opened and switches off automatically when the boot is closed. Different lighting times are available: - when the ignition is off, approximately te ...
Stopping the vehicle
Before switching off the engine, you can choose to: - move to position N to engage neutral, - leave the gear engaged; in this case, it will not be possible to move the vehicle. In both cases, you m ...
Distance alert
Driving aid which informs the driver of the time interval (in seconds) separating them from the vehicle in front when the driving conditions are stable. It does not detect stationary vehicles and d ...