Door mirrors
Each fitted with an adjustable mirror glass providing the lateral rearward vision necessary for overtaking or parking. They can also be folded for parking in confined spaces.
Demisting - Defrosting

Demisting-defrosting of the door mirrors operates with the engine running, by switching on the heated rear screen (see "Rear screen demist-defrost").
Manual model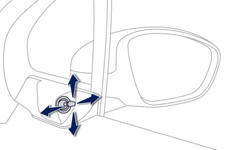 Adjustment
Move the lever in all four directions to adjust the mirror.
Folding
When parked, fold the mirror manually to protect it.
Unfolding
Before moving off, unfold the mirror.
Electric mode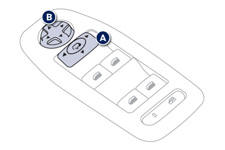 Adjustment
Move control A to the right or to the left to select the corresponding mirror.
Move control B in all four directions to adjust.
Return control A to the central position.
The objects observed are, in reality, closer than they appear. Take this into account in order to correctly judge the distance of vehicles approaching from behind.
Folding
- Automatic: lock the vehicle using the remote control or the key.
- Manual: with the ignition on, pull control A rearwards.
If the mirrors are folded using control A, they will not unfold when the vehicle is unlocked. Pull again on control A.
Unfolding
- Automatic: unlock the vehicle using the remote control or the key.
- Manual: with the ignition on, pull control A rearwards.
The folding and unfolding of the door mirrors using the remote control can be deactivated by a PEUGEOT dealer or a qualified workshop. Fold the mirrors when putting your vehicle through an automatic car wash.
See also:
Interior fittings
1. Glove box (see details on the following page) 2. Large storage compartment (without audio system) 3. 12 V accessory socket (120 W) Observe the maximum power rating to avoid damaging your acces ...
Steering wheel adjustment
When stationary , pull the control lever to release the adjustment mechanism. Adjust the height and reach to suit your driving position. Push the control lever to lock the adjustment mechanism. ...
Trip reset
When the desired trip is displayed, press the reset zone, located at bottom right of the touch screen. Trips "1" and "2" are independent but their use is identical. For examp ...