Rear parking sensors
The system is switched on by engaging reverse gear. This is accompanied by an audible signal. The system is switched off when you exit reverse gear.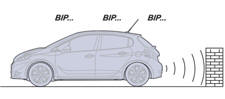 Audible assistance
The proximity information is given by an intermittent audible signal, the frequency of which increases as the vehicle approaches the obstacle. The sound emitted by the speaker (right or left) indicates the side on which the obstacle is located.
When the distance between the vehicle and the obstacle becomes less than approximately thirty centimetres, the audible signal becomes continuous.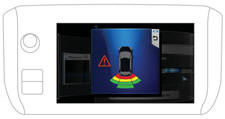 Visual assistance
This supplements the audible signal by displaying bars in the multifunction screen which move progressively nearer to the vehicle. When the obstacle is near, the "Danger" symbol is also displayed in the screen.
Deactivation / Activation of the rear parking sensors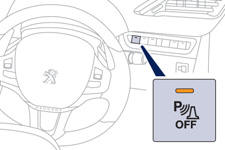 The function is deactivated by pressing this switch. The indicator lamp in the switch comes on.
Pressing this switch again reactivates the function. The indicator lamp in the switch goes off.
The function will be deactivated automatically if a trailer is being towed or a bicycle carrier is fitted (vehicle fitted with a towbar or bicycle carrier recommended by PEUGEOT).
See also:
"ISOFIX" mountings
Your vehicle has been approved in accordance with the new ISOFIX regulation . The seats, represented below, are fitted with regulation ISOFIX mountings: There are three rings for each seat: - t ...
Isofix child seats recommended by Peugeot and approved for your vehicle
FAIR Bimbofi x ISOFIX (size category: C or A ) RÖMER Duo Plus ISOFIX (size category: B1 ) Follow the instructions for fitting child seats contained in the seat manufacturer's installat ...
Deactivation indicator lamps
If one of the following indicator lamps comes on, this confirms that the corresponding system has been switched off intentionally. This is may be accompanied by an audible signal and a message in ...