Rear parking sensors
The system is switched on by engaging reverse gear. This is accompanied by an audible signal. The system is switched off when you exit reverse gear.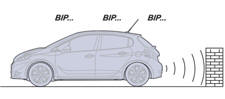 Audible assistance
The proximity information is given by an intermittent audible signal, the frequency of which increases as the vehicle approaches the obstacle. The sound emitted by the speaker (right or left) indicates the side on which the obstacle is located.
When the distance between the vehicle and the obstacle becomes less than approximately thirty centimetres, the audible signal becomes continuous.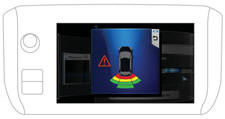 Visual assistance
This supplements the audible signal by displaying bars in the multifunction screen which move progressively nearer to the vehicle. When the obstacle is near, the "Danger" symbol is also displayed in the screen.
Deactivation / Activation of the rear parking sensors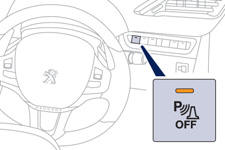 The function is deactivated by pressing this switch. The indicator lamp in the switch comes on.
Pressing this switch again reactivates the function. The indicator lamp in the switch goes off.
The function will be deactivated automatically if a trailer is being towed or a bicycle carrier is fitted (vehicle fitted with a towbar or bicycle carrier recommended by PEUGEOT).
See also:
Locations for ISOFIX child seats (308 saloon, 308 SW with bench rear seat)
In accordance with European Regulations, this table indicates the options for installing ISOFIX child seats on seats in the vehicle fitted with ISOFIX mountings. In the case of universal and se ...
Installing child seats with a stay
Precautions must be taken when installing a child seat with a stay (or drop down leg). In particular, take care when there is a storage compartment present in the rear footwells. Do not place ...
Fuses under the bonnet
The fusebox is placed in the engine compartment near the battery (left-hand side). Access to the fuses Unclip the cover. Change the fuse (see corresponding paragraph). When you have finishe ...