Rear parking sensors
The system is switched on by engaging reverse gear. This is accompanied by an audible signal. The system is switched off when you exit reverse gear.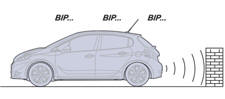 Audible assistance
The proximity information is given by an intermittent audible signal, the frequency of which increases as the vehicle approaches the obstacle. The sound emitted by the speaker (right or left) indicates the side on which the obstacle is located.
When the distance between the vehicle and the obstacle becomes less than approximately thirty centimetres, the audible signal becomes continuous.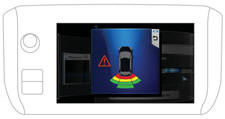 Visual assistance
This supplements the audible signal by displaying bars in the multifunction screen which move progressively nearer to the vehicle. When the obstacle is near, the "Danger" symbol is also displayed in the screen.
Deactivation / Activation of the rear parking sensors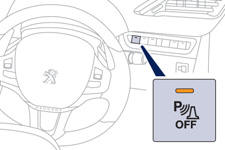 The function is deactivated by pressing this switch. The indicator lamp in the switch comes on.
Pressing this switch again reactivates the function. The indicator lamp in the switch goes off.
The function will be deactivated automatically if a trailer is being towed or a bicycle carrier is fitted (vehicle fitted with a towbar or bicycle carrier recommended by PEUGEOT).
See also:
Exceeding the programmed speed
Intentional or unintentional exceeding of the programmed speed results in flashing of this speed in the screen. Return to the programmed speed, by means of intentional or unintentional deceleration ...
Toll card / car park ticket windows
Facility for affixing toll cards and/or car park tickets. These windows are located on each side of the base of the rear view mirror. They are two non-reflective areas of the athermic windscreen. ...
Manual operation
To open or close the window, press or pull the switch gently. The window stops as soon as the switch is released. ...