Rear parking sensors
The system is switched on by engaging reverse gear. This is accompanied by an audible signal. The system is switched off when you exit reverse gear.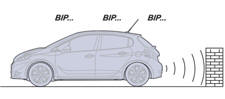 Audible assistance
The proximity information is given by an intermittent audible signal, the frequency of which increases as the vehicle approaches the obstacle. The sound emitted by the speaker (right or left) indicates the side on which the obstacle is located.
When the distance between the vehicle and the obstacle becomes less than approximately thirty centimetres, the audible signal becomes continuous.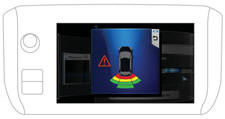 Visual assistance
This supplements the audible signal by displaying bars in the multifunction screen which move progressively nearer to the vehicle. When the obstacle is near, the "Danger" symbol is also displayed in the screen.
Deactivation / Activation of the rear parking sensors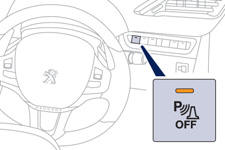 The function is deactivated by pressing this switch. The indicator lamp in the switch comes on.
Pressing this switch again reactivates the function. The indicator lamp in the switch goes off.
The function will be deactivated automatically if a trailer is being towed or a bicycle carrier is fitted (vehicle fitted with a towbar or bicycle carrier recommended by PEUGEOT).
See also:
Unlocking the vehicle Complete unlocking
Using the key Turn the key to the front of the vehicle to unlock the vehicle. Using the remote control Press the open padlock to unlock the vehicle. Unlocking is confirmed by rapid flashing of ...
Deadlocking
Deadlocking renders the exterior and interior door controls inoperative. It also deactivates the manual central control button. Therefore, never leave anyone inside the vehicle when it is deadlocke ...
12 V accessory sockets
To connect a 12 V accessory (max power: 120 Watts), remove the cover and connect a suitable adaptor. Exceeding the maximum power could result in damage to your accessory. ...