Headlamp adjustment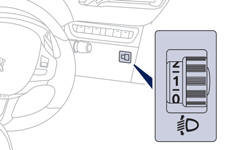 To avoid causing a nuisance to other road users, the headlamp beams should be adjusted according to the load in the vehicle.
0. 1 or 2 people in the front seats.
-. Intermediate setting
1. 5 people.
-. 5 people + maximum authorised load.
2. Driver + maximum authorised load.
The initial setting is position "0".
See also:
Fuses under the bonnet
The fusebox is placed in the engine compartment near the battery (left-hand side). Access to the fuses Unclip the cover. Change the fuse (see corresponding paragraph). When you have finishe ...
New generation of 3-cylinder engines
A new stage in the Group's downsizing strategy, this new generation of engine block permits a true breakthrough in terms of fuel consumption and CO2 emissions, while offering a good level of perfo ...
Description of the kit
A. "Sealant" or "Air" position selector. B. On "I" / off "O" switch. C. Deflation button. D. Pressure gauge (in bar or p.s.i.). E. Compartment housing: - ...