Lateral airbags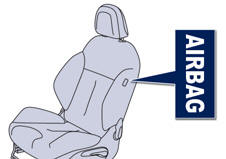 System which protects the driver and front passenger in the event of a serious side impact in order to limit the risk of injury to the chest, between the hip and the shoulder. Each lateral airbag is fitted in the seat backrest frame, door side.
Deployment
The lateral airbags are deployed unilaterally in the event of a serious side impact applied to all or part of the side impact zone B , perpendicular to the longitudinal centreline of the vehicle on a horizontal plane and directed from the outside towards the inside of the vehicle. The lateral airbag inflates between the hip and shoulder of the front occupant of the vehicle and the corresponding door trim panel.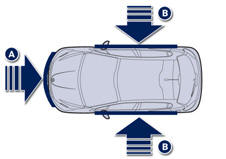 Impact detection zones
A. Front impact zone.
B. Side impact zone.
See also:
Passenger safety
Passenger's front airbag 1. Insert the key. 2. Select the position: "OFF" (deactivation), with "rear facing" child seat, "ON" (activation), with front passenge ...
Ski flap
Arrangement for storing and transporting long objects. Opening Lower the rear armrest. Pull the flap handle downwards. Lower the flap. Load the objects from inside the boot. ...
6-Speed electronic gear control gearbox
Six-speed electronic gear control gearbox which offers a choice between the comfort of automated operation or the pleasure of manual gear changing. Two driving modes are offered: - automated mode ...