Lateral airbags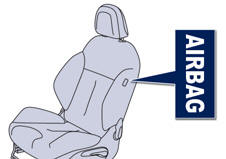 System which protects the driver and front passenger in the event of a serious side impact in order to limit the risk of injury to the chest, between the hip and the shoulder. Each lateral airbag is fitted in the seat backrest frame, door side.
Deployment
The lateral airbags are deployed unilaterally in the event of a serious side impact applied to all or part of the side impact zone B , perpendicular to the longitudinal centreline of the vehicle on a horizontal plane and directed from the outside towards the inside of the vehicle. The lateral airbag inflates between the hip and shoulder of the front occupant of the vehicle and the corresponding door trim panel.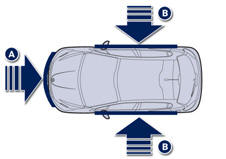 Impact detection zones
A. Front impact zone.
B. Side impact zone.
See also:
Repositioning the seat backrest
Straighten the seat backrest 2 and secure it. Check that the red indicators, located next to the controls 1 , are no longer visible. Unbuckle and return the seat belts to the sides of the ...
"Porsche tiptronic system" automatic gearbox
Six speed automatic gearbox which offers a choice between the comfort of fully automatic operation, enhanced by sport and snow programmes, or manual gear changing. Four driving modes are offered: ...
A very charismatic front face
The front face, a true genetic signature, unveils a new, particularly charismatic face of the Marque. Its feline expression is more modern, rich and refined, with, in particular (according to vers ...