Filling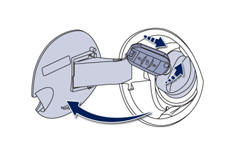 A self-adhesive label on the inner face of the filler flap reminds you of the type of fuel to use depending on your engine.
Additions of fuel must be of at least 5 litres to be registered by the fuel gauge.
The key cannot be removed from the lock until the cap is refitted.
Removing the filler cap may cause an inrush of air. This vacuum is perfectly normal and results from the sealing of the system.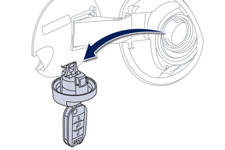 To fill the tank safely:
the engine must be switched off,
open the fuel filler flap,
insert the key in the cap, then turn it to the left,
remove the cap and hook it onto the clip located on the inside of the flap,
fill the tank, but do not continue after the 3rd cut-off of the pump ; this could cause malfunctions.
When you have filled the tank:
put the cap back in place,
turn the key to the right, then remove it from the cap,
close the flap.
If you have put in the wrong fuel for the engine of your vehicle, you must have the fuel tank drained and filled with the correct fuel before starting the engine.
See also:
Sitting comfortably
Front seats Head restraint height and angle Lumbar Steering wheel adjustment 1. Release the steering wheel. 2. Adjust for height and reach. 3. Lock the steering wheel. As a safety precaut ...
Misfuel prevention (diesel)
Mechanical device which prevents filling the tank of a Diesel vehicle with petrol. It avoids the risk of engine damage that can result from filling with the wrong fuel. Located in the filler neck ...
Road-holding: the Marque's expertise
The Peugeot Marque has demonstrated the full extent of its expertise in developing a new combination, at a very high level as regards the road-holding of its Peugeot 208, in order to carry forward ...