Filling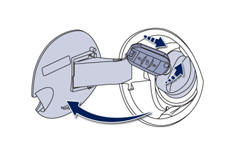 A self-adhesive label on the inner face of the filler flap reminds you of the type of fuel to use depending on your engine.
Additions of fuel must be of at least 5 litres to be registered by the fuel gauge.
The key cannot be removed from the lock until the cap is refitted.
Removing the filler cap may cause an inrush of air. This vacuum is perfectly normal and results from the sealing of the system.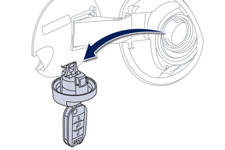 To fill the tank safely:
the engine must be switched off,
open the fuel filler flap,
insert the key in the cap, then turn it to the left,
remove the cap and hook it onto the clip located on the inside of the flap,
fill the tank, but do not continue after the 3rd cut-off of the pump ; this could cause malfunctions.
When you have filled the tank:
put the cap back in place,
turn the key to the right, then remove it from the cap,
close the flap.
If you have put in the wrong fuel for the engine of your vehicle, you must have the fuel tank drained and filled with the correct fuel before starting the engine.
See also:
Very cold climate screen
Removable protective screen which prevents the accumulation of snow at the radiator cooling fan. Before fitting or removing the screen, ensure that the engine is off and the cooling fan has stopp ...
The peugeot 3008, a status-enhancing crossover with ambitious quality targets
Based on the same processes first introduced with the launch of the 308, both perceived quality and driveability were made a priority during the design, development and manufacture of the Peugeot ...
Peugeot 208 Allure e-HDi review
Talking to Peugeot's design chief, Gilles Vidal, makes you acutely aware of the importance of the 208, and it's need to "re-generate" both Peugeot and, so it's makers say, the small, B ...