Airbags
System designed to maximise the safety of the occupants (with the exception of the rear centre passenger) in the event of violent collisions. It supplements the action of the force-limiting seat belts (with the exception of the rear centre passenger).
If a collision occurs, the electronic detectors record and analyse the front and side impacts sustained in the impact detection zones:
- in the case of a serious impact, the airbags are deployed instantly and protect the occupants of the vehicle (with the exception of the rear centre passenger); immediately after the impact, the airbags deflate rapidly so that they do not hinder visibility or the exit of the occupants,
- in the case of a minor or rear impact or in certain roll-over conditions, the airbags will not be deployed; the seat belt alone is sufficient to provide optimum protection in these situations.
The airbags do not operate when the ignition is switched off.
This equipment will only deploy once. If a second impact occurs (during the same or a subsequent accident), the airbag will not be deployed again.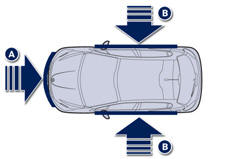 Impact detection zones
A. Front impact zone.
B. Side impact zone.
Deployment of the airbag(s) is accompanied by a slight emission of harmless smoke and a noise, due to the activation of the pyrotechnic cartridge incorporated in the system.
This smoke is not harmful, but sensitive individuals may experience slight irritation.
The noise of the detonation may result in a slight loss of hearing for a short time.
See also:
A generous passenger compartment
A wheelbase identical to that of the 207, the adoption of more compact front seat backs and an overall optimisation of the design provide significantly more space in the rear for passengers (+ 5 c ...
Identification markings
Various visible markings for the identifi - cation and tracing of your vehicle. A. Vehicle identification Number (VIN) under the bonnet. This number is engraved on the bodywork near the damper suppo ...
A range of high-performance power trains
The weight, the aerodynamics, the very low and ultra low rolling resistance tyres and, of course, the expertise and technological innovation of the Group in the engine domain are factors which all ...