Indicator and warning lamps
Visual indicators informing the driver that a system is in operation, switched off or has a fault.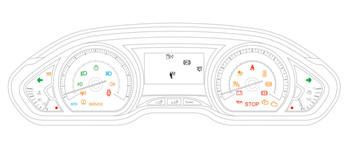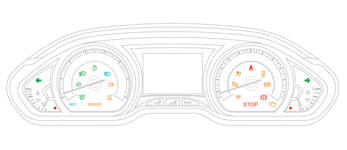 When the ignition is switched on
Certain warning lamps come on for a few seconds in the instrument panel and/or instrument panel screen when the vehicle's ignition is switched on. When the engine is started, these same warning lamps should go off. If they remain on, before moving off, refer to the information on the warning lamp concerned.
Associated warnings
The switching on of certain warning lamps may be accompanied by an audible signal and a message in the instrument panel or multifunction screen. The warning lamps may come on continuously (fixed) or flash.
Certain warning lamps may come on in one of two modes. Only by relating the type of lighting to the operating status of the vehicle can it be ascertained whether the situation is normal or whether a fault has occurred.
See also:
Stylistic re-generation
"Agile, sensuous, athletic, intuitive, concentrated energy, generation jump"... these words were included in the specification of the A9 project and the stylists have succeeded in giving ...
Stopping the vehicle
Before switching off the engine, you can choose to: - move to position N to engage neutral, - leave the gear engaged; in this case, it will not be possible to move the vehicle. In both cases, you m ...
Accessories
A wide range of accessories and genuine parts is available from the PEUGEOT dealer network. These accessories and parts have been tested and approved for reliability and safety. They are all ada ...