Indicator and warning lamps
Visual indicators informing the driver that a system is in operation, switched off or has a fault.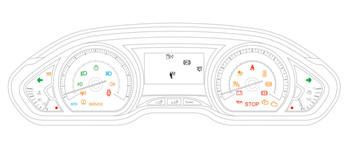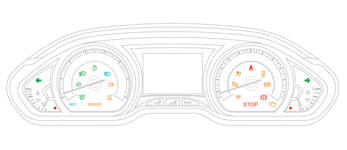 When the ignition is switched on
Certain warning lamps come on for a few seconds in the instrument panel and/or instrument panel screen when the vehicle's ignition is switched on. When the engine is started, these same warning lamps should go off. If they remain on, before moving off, refer to the information on the warning lamp concerned.
Associated warnings
The switching on of certain warning lamps may be accompanied by an audible signal and a message in the instrument panel or multifunction screen. The warning lamps may come on continuously (fixed) or flash.
Certain warning lamps may come on in one of two modes. Only by relating the type of lighting to the operating status of the vehicle can it be ascertained whether the situation is normal or whether a fault has occurred.
See also:
Folding the backrest
Move the front seats forward if necessary. Position the seat belts on the backrest and buckle them. Place the head restraints in the low position. Press both controls 1 simultaneously ...
The touch screen: intuitive connectivity
In keeping with its time, consistent with the new ergonomics of its instruments and controls, the Peugeot 208 will offer the majority of its customers, that is from the 2nd level of the range (i.e ...
6-Speed electronic gear control gearbox
Six-speed electronic gear control gearbox which offers a choice between the comfort of automated operation or the pleasure of manual gear changing. Two driving modes are offered: - automated mode ...