Indicator and warning lamps
Visual indicators informing the driver that a system is in operation, switched off or has a fault.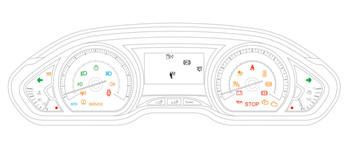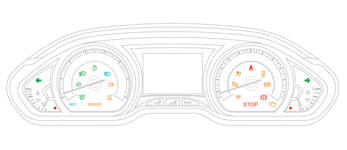 When the ignition is switched on
Certain warning lamps come on for a few seconds in the instrument panel and/or instrument panel screen when the vehicle's ignition is switched on. When the engine is started, these same warning lamps should go off. If they remain on, before moving off, refer to the information on the warning lamp concerned.
Associated warnings
The switching on of certain warning lamps may be accompanied by an audible signal and a message in the instrument panel or multifunction screen. The warning lamps may come on continuously (fixed) or flash.
Certain warning lamps may come on in one of two modes. Only by relating the type of lighting to the operating status of the vehicle can it be ascertained whether the situation is normal or whether a fault has occurred.
See also:
Passenger doors
On the rear doors, check that the child lock is not on. Remove the black cap located on the edge of the door, using the key. Insert the key into the aperture without forcing, then without turni ...
Programming
Turn thumb wheel 1 to the "CRUISE" position: the cruise control mode is selected but is not switched on (PAUSE). Set the programmed speed by accelerating to the required speed, then pre ...
Access to the spare wheel
The spare wheel is installed in the boot under the floor. According to country, the spare wheel may be steel, alloy or of the "space-saver" type. To gain access to it, refer to the para ...