Bonnet
Opening

Before doing anything under the bonnet, switch off the Stop & Start system to avoid any risk of injury resulting from an automatic change to START mode.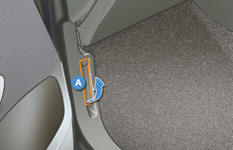 Open the front left door.
Pull the interior bonnet release lever A , located at the bottom of the door aperture.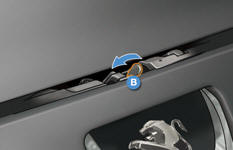 Push the exterior safety catch B to the left and raise the bonnet.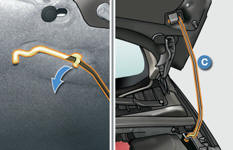 Unclip the stay C from its housing.
Fix the stay in the notch to hold the bonnet open.

The location of the interior bonnet release lever prevents opening of the bonnet while the front left door is closed.

Do not open the bonnet in high winds.
When the engine is hot, handle the exterior safety catch and the bonnet stay with care (risk of burns).
Closing
Take the stay out of the support notch.
Clip the stay in its housing.
Lower the bonnet and release it at the end of its travel.
Pull on the bonnet to check that it is secured correctly.
See also:
Filling
A self-adhesive label on the inner face of the filler flap reminds you of the type of fuel to use depending on your engine. Additions of fuel must be of at least 5 litres to be registered by the ...
Instrument panel navigator associated with the Peugeot Connect Media
This group of buttons permits: - when stationary , configuration of the vehicle's equipment and of the parameters of the central screen (languages, units...), - while driving , scrolling of t ...
Speed limiter
System which prevents the vehicle from exceeding the speed programmed by the driver. When the programmed speed limit is reached, pressing the accelerator pedal no longer has any effect unless it ...