Identification markings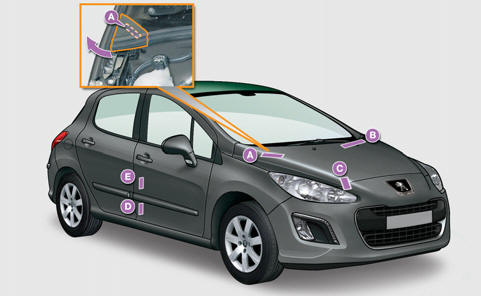 Various visible markings for the identification and tracking of your vehicle.
A. Vehicle identification Number (VIN) under the bonnet.
This number is engraved on the bodywork near the damper support.
To gain access to it, raise the plastic cover.
B. VIN on the windscreen lower crossmember.
This number is indicated on a selfadhesive label which is visible through the windscreen.
C. Manufacturer's plate.
This plate is riveted onto the engine mounting.

or

D. Manufacturer's label.
This number is indicated on a selfdestroying label affixed to the right hand centre pillar.
This plate / label also indicates the kerb weight, the gross vehicle weight (GVW) and the gross train weight (GTW).
E. Tyre/paint label.
This label is affixed to the middle pillar, on the driver's side.
It bears the following information:
- the tyre inflation pressures with and without load,
- the tyre sizes,
- the inflation pressure of the spare wheel,
- the paint colour code.

The tyre pressures must be checked when the tyres are cold, at least once a month.

If the tyre pressures are too low, this increases fuel consumption.
See also:
Misfuel prevention (diesel)
Mechanical device which prevents filling the tank of a Diesel vehicle with petrol. It avoids the risk of engine damage that can result from filling with the wrong fuel. Located in the filler neck ...
A generous passenger compartment
A wheelbase identical to that of the 207, the adoption of more compact front seat backs and an overall optimisation of the design provide significantly more space in the rear for passengers (+ 5 c ...
6-speed manual gearbox
Engaging 5 th or 6 th gear Move the lever fully to the right to engage 5 th or 6 th gear. Engaging reverse gear Raise the ring under the knob and move the gear lever to the left then forwards. ...