Identification markings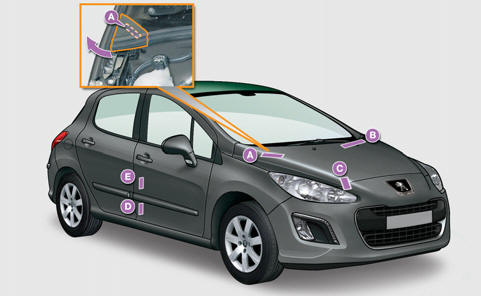 Various visible markings for the identification and tracking of your vehicle.
A. Vehicle identification Number (VIN) under the bonnet.
This number is engraved on the bodywork near the damper support.
To gain access to it, raise the plastic cover.
B. VIN on the windscreen lower crossmember.
This number is indicated on a selfadhesive label which is visible through the windscreen.
C. Manufacturer's plate.
This plate is riveted onto the engine mounting.

or

D. Manufacturer's label.
This number is indicated on a selfdestroying label affixed to the right hand centre pillar.
This plate / label also indicates the kerb weight, the gross vehicle weight (GVW) and the gross train weight (GTW).
E. Tyre/paint label.
This label is affixed to the middle pillar, on the driver's side.
It bears the following information:
- the tyre inflation pressures with and without load,
- the tyre sizes,
- the inflation pressure of the spare wheel,
- the paint colour code.

The tyre pressures must be checked when the tyres are cold, at least once a month.

If the tyre pressures are too low, this increases fuel consumption.
See also:
Head-up display
1. Head-up display on / off. 2. Brightness adjustment. 3. Display height adjustment. ...
Checks
Unless otherwise indicated, check these components in accordance with the servicing booklet and according to your engine. Otherwise, have them checked by a PEUGEOT dealer or a qualified workshop. ...
Opening
Take the blind by its handle and push it rearwards to the required position. ...