Rear seats
Bench seat the left-hand (2/3) or righthand (1/3) section of which can be folded to adapt the boot load space.
Rear head restraints
These have a high position (comfort and safety) and a low position (rear visibility).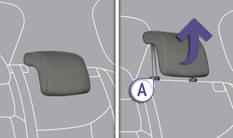 They can also be removed.
To remove a head restraint:
Pull the head restraint fully upwards.
Then, press the lug A .

Never drive with rear passengers when the head restraints are removed; the head restraints must be in place and in the high position.
Folding the seat from the boot
Each section of the bench seat (1/3 or 2/3) has its own control to release the seat back and its seat cushion from the boot.
Check that nothing is preventing the seat back from folding (head restraint, seat belts, ...).
Check also that no object on or under the seat could hinder its movement.
Pull the control from the boot.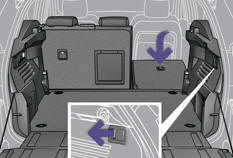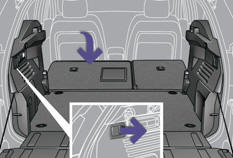 Folding the seat from the rear
Check that no object, either on or underneath the seat, could hinder its movement.
Move the corresponding front seat forwards if necessary.
Check that the seat belt is positioned correctly on the side of the seat back.
Place the head restraints in the low position or remove them if necessary.
Pull the control 1 forwards to release the seat back 2 which tilts easily onto the seat cushion 3 .
Returning the seat back to its original position
Put the seat back in the upright position and secure it, the seat cushion also returns to its original position.
Check that the red indicator, located at the control 1 , is no longer visible, Refit the head restraints or put them back in place.
When returning the rear seat back to its original position, take care not to trap the seat belts and ensure that their buckles are positioned correctly.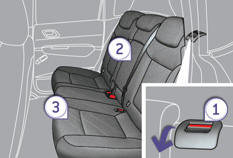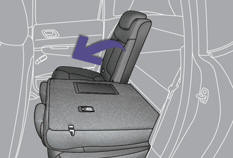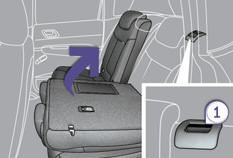 The seat cushion lowers to be covered by the seat back; this leaves a fl at boot floor, if the adjustable floor is in the intermediate position.
See also:
Steering mounted controls
The controls of this system are grouped together on stalk A. 1. Speed limiter mode selection thumb wheel. 2. Value decrease button. 3. Value increase button. 4. Speed limiter on / off button. ...
Information display
Press the button on the end of the wiper control stalk to display the various tabs in succession. - The current information tab with: ● the range, ● the current fuel consumption, & ...
Optimised aerodynamics
The dimensions of the Peugeot 208, in particular the width (-2 cm) and the height (-1 cm compared with the 207), its volumes which have been designed with particular attention, the care given to e ...