Mirrors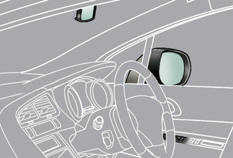 Door mirrors
Each fitted with an adjustable mirror glass permitting the lateral rearward vision necessary for overtaking or parking.
They can also be folded for parking in confined spaces.
Demisting - Defrosting
If your vehicle is fitted with heated mirrors, the demisting-defrosting operates by switching on the heated rear screen (refer to the "Rear screen demist-defrost" page).

The rear screen demist - defrost can only operate when the engine is running.
Adjustment
Move control A to the right or to the left to select the corresponding mirror.
Move control B in all four directions to adjust.
Return control A to the central position.

The objects observed are, in reality, closer than they appear.
Take this into account in order to correctly judge the distance of vehicles approaching from behind.
Folding
- Automatic: lock the vehicle using the remote control or the key.
- Manual: with the ignition on, pull control A rearwards.

If the mirrors are folded using control A , they will not unfold when the vehicle is unlocked.
Pull again on control A .
Unfolding
- Automatic: unlock the vehicle using the remote control or the key.
- Manual: with the ignition on, pull control A rearwards.

The folding and unfolding of the door mirrors using the remote control can be deactivated by a PEUGEOT dealer or a qualified workshop.
Fold the mirrors when putting your vehicle through an automatic car wash.
Rear view mirror
Adjustable mirror providing a central rearward view.
Equipped with an anti-dazzle system, which darkens the mirror glass and reduces the nuisance to the driver caused by the sun, headlamps from other vehicles...
Manual day/night model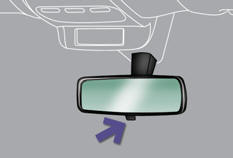 Adjustment
Adjust the mirror so that the glass is directed correctly in the "day" position.
Day / night position
Pull the lever to change to the "night" anti-dazzle position.
Push the lever to change to the normal "day" position.

As a safety measure, the mirrors should be adjusted to reduce the "blind spot".
Automatic day/night model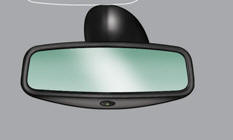 By means of a sensor, which measures the light from the rear of the vehicle, this system automatically and progressively changes between the day and night uses.

In order to ensure optimum visibility during your manoeuvres, the mirror lightens automatically when reverse gear is engaged.
See also:
Trip computer with touch screen
System which provides current information concerning the trip (range, fuel consumption…). ...
Towing a trailer
Towbar suitable for the attachment of a trailer or installation of a bicycle carrier, with additional lighting and signalling. Your vehicle is primarily designed for transporting people and lugga ...
Torch
Portable lamp, fitted in the boot wall, which can be used to light the boot or as a torch. Operation Once engaged firmly in its location, it comes on automatically when the boot is opened and ...