Starting the vehicle
Insert the key in the ignition switch.
The system recognises the starting code.
Turn the key fully towards the dashboard to position 3 (Starting) .
When the engine starts, release the key.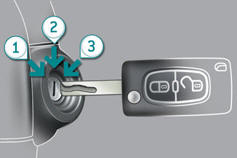 See also:
Petrol weights and towed loads (in kg)
The GTW and towed load values indicated are valid up to a maximum altitude of 1 000 metres; the towed load mentioned must be reduced by 10 % for each additional 1 000 metres of altitude. The sp ...
Peugeot 208 diesel range:
1.4l HDi PEF 50 kW (68 hp), 160 Nm, 5-speed manual gearbox; CO2: 98 g/km 1.4l e-HDi PEF 50 kW (68 hp),160 Nm,5-speed piloted gearbox,Stop & Start; CO2: 87 g/km 1.6 l e-HDi PEF 68 kW (92 hp), 2 ...
Exiting economy mode
These functions are reactivated automatically next time the vehicle is driven. To restore these functions immediately, start the engine and let it run for at least five minutes. A flat battery pre ...