Indicator and warning lamps
Visual indicators informing the driver that a system is in operation, switched off or has a fault.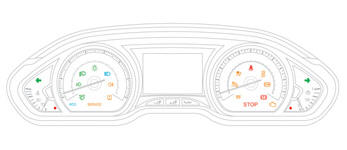 When the ignition is switched on
Certain warning lamps come on for a few seconds in the instrument panel and/or instrument panel screen when the vehicle's ignition is switched on. When the engine is started, these same warning lamps should go off. If they remain on, before moving off, refer to the information on the warning lamp concerned.
Associated warnings
The switching on of certain warning lamps may be accompanied by an audible signal and a message in the instrument panel or multifunction screen. The warning lamps may come on continuously (fixed) or flash.
Certain warning lamps may come on in one of two modes. Only by relating the type of lighting to the operating status of the vehicle can it be ascertained whether the situation is normal or whether a fault has occurred.
See also:
Automatic rain sensitive windscreen wipers
The windscreen wipers operate automatically, without any action on the part of the driver, if rain is detected (sensor behind the rear view mirror), adapting their speed to the intensity of the ra ...
Towing a trailer
Towbar suitable for the attachment of a trailer with additional lighting and signalling. Your vehicle is primarily designed for transporting people and luggage, but it may also be used for towi ...
Instrument panel navigator associated with the Peugeot Connect Media
This group of buttons permits: - when stationary , configuration of the vehicle's equipment and of the parameters of the central screen (languages, units...), - while driving , scrolling of t ...