Indicator and warning lamps
Visual indicators informing the driver that a system is in operation, switched off or has a fault.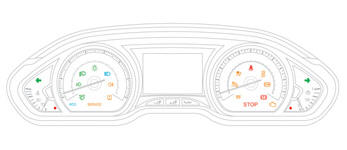 When the ignition is switched on
Certain warning lamps come on for a few seconds in the instrument panel and/or instrument panel screen when the vehicle's ignition is switched on. When the engine is started, these same warning lamps should go off. If they remain on, before moving off, refer to the information on the warning lamp concerned.
Associated warnings
The switching on of certain warning lamps may be accompanied by an audible signal and a message in the instrument panel or multifunction screen. The warning lamps may come on continuously (fixed) or flash.
Certain warning lamps may come on in one of two modes. Only by relating the type of lighting to the operating status of the vehicle can it be ascertained whether the situation is normal or whether a fault has occurred.
See also:
Operating fault
In the event of a fault with the sunshine sensor, the lighting comes on, this warning lamp is displayed in the instrument panel and/or a message appears in the screen, accompanied by an audible ...
Recommendations for ventilation and air conditioning
In order for these systems to be fully effective, follow the operation and maintenance guidelines below: To obtain an even air distribution, take care not to obstruct the exterior air intake gril ...
Front passenger's airbag
1. Open the glove box. 2. Insert the key. 3. Select position: "ON" (activation), with front passenger or "forwards facing" child seat, "OFF" (deactivation), with & ...