Door mirrors
Each fitted with an adjustable mirror glass providing the lateral rearward vision necessary for overtaking or parking. They can also be folded for parking in confined spaces.
Demisting - Defrosting

Demisting-defrosting of the door mirrors operates with the engine running, by switching on the heated rear screen (see "Rear screen demist-defrost").
Manual model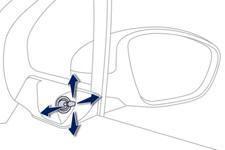 Adjustment
Move the lever in all four directions to adjust the mirror.
Folding
When parked, fold the mirror manually to protect it.
Unfolding
Before moving off, unfold the mirror.
Electric mode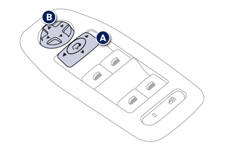 Adjustment
Move control A to the right or to the left to select the corresponding mirror.
Move control B in all four directions to adjust.
Return control A to the central position.
The objects observed are, in reality, closer than they appear. Take this into account in order to correctly judge the distance of vehicles approaching from behind.
Folding
- Automatic: lock the vehicle using the remote control or the key.
- Manual: with the ignition on, pull control A rearwards.
If the mirrors are folded using control A, they will not unfold when the vehicle is unlocked. Pull again on control A.
Unfolding
- Automatic: unlock the vehicle using the remote control or the key.
- Manual: with the ignition on, pull control A rearwards.
The folding and unfolding of the door mirrors using the remote control can be deactivated by a PEUGEOT dealer or a qualified workshop. Fold the mirrors when putting your vehicle through an automatic car wash.
See also:
1.4 litre HDi engine
Fill the fuel tank with at least five litres of diesel. Open the bonnet. Press and release the priming pump until resistance is felt (there may be resistance on the first press). Operate t ...
Front map reading lamps
With the ignition on, press the corresponding switch. Take care to avoid leaving anything in contact with the courtesy lamp. ...
Diesel engines
The various caps and covers allow access for checking the levels of the various fluids, for replacing certain components and for priming the fuel system. 1. Screenwash reservoir. 2. Coolant reserv ...