Boot fittings
1. Rear parcel shelf (see following page for details)
2. Hooks (see following page for details)
3. Boot lamp
4. Retaining strap
5. Stowing rings (depending on version)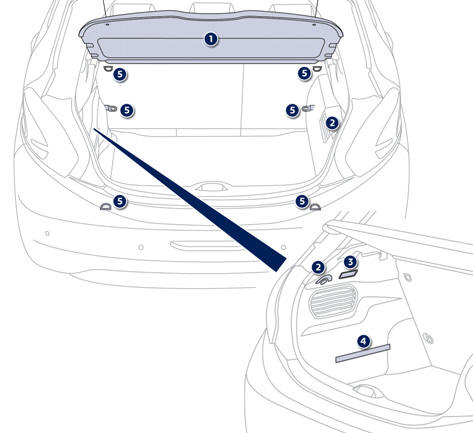 Rear parcel shelf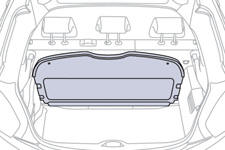 To remove the shelf:
unhook the two cords,
raise the shelf slightly, then remove it.
You have two storage options:
- either upright behind the front seats,
- or upright behind the rear seats.
Hooks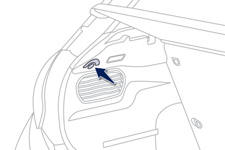 The hooks can be used to secure shopping bags.
See also:
Rear seats
Bench seat the left-hand (2/3) or righthand (1/3) section of which can be folded to adapt the boot load space. Rear head restraints These have a high position (comfort and safety) and a low positi ...
Removing the cartridge
Stow the black pipe. Detach the angled base from the white pipe. Support the compressor vertically. Unscrew the cartridge from the bottom. Beware of discharges of fluid. The expiry date ...
Fuses under the bonnet
The fusebox is placed in the engine compartment near the battery (left-hand side). Access to the fuses Unclip the cover. Change the fuse (see corresponding paragraph). When you have finishe ...