Gear shift indicator
Operation
The system intervenes only when driving economically.
Depending on the driving situation and your vehicle's equipment, the system may advise you to skip one or more gears. You can follow this instruction without engaging the intermediate gears.
The gear engagement recommendations must not be considered compulsory. In fact, the configuration of the road, the amount of traffic and safety remain determining factors when choosing the best gear. Therefore, the driver remains responsible for deciding whether or not to follow the advice given by the system. This function cannot be deactivated.
Example: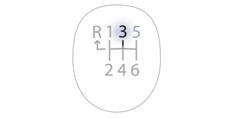 - You are in third gear.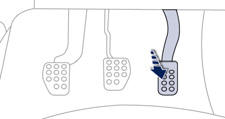 - You press the accelerator pedal moderately.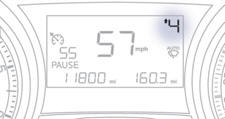 - The system may suggest that you engage a higher gear, if appropriate.
The information appears in the instrument panel in the form of an arrow accompanied by the suggested gear.
In the case of driving which makes particular demands on the performance of the engine (firm pressure on the accelerator pedal, for example, when overtaking...), the system will not recommend a gear change.
The system never suggests:
- engaging first gear,
- engaging reverse gear,
- engaging a lower gear.
See also:
Petrol weights and towed loads (in kg)
The GTW and towed load values indicated are valid up to a maximum altitude of 1 000 metres; the towed load mentioned must be reduced by 10 % for each additional 1 000 metres of altitude. The sp ...
Storage box
Storage area, built into the rear of the front armrest, for the rear passengers. To empty the box, after opening, press the tab and remove it. ...
Isofix child seats recommended by Peugeot and approved for your vehicle
FAIR Bimbofi x ISOFIX (size category: C or A ) RÖMER Duo Plus ISOFIX (size category: B1 ) Follow the instructions for fitting child seats contained in the seat manufacturer's installat ...