Wipers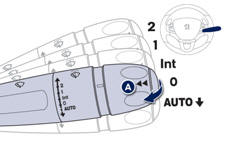 Control stalk A: windscreen wipers
2. Fast wipe.
1. Normal wipe.
Int. Intermittent wipe.
0. Park.
AUTO Automatic wiping.

Single wipe: Brief pull on the stalk towards. Screenwash: Long pull on stalk towards you.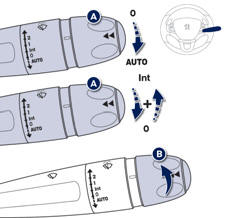 Switching on "AUTO" mode

Briefly push the stalk downwards.
Switching off "AUTO" mode

Briefly push the stalk downwards or place the stalk in another position: Int, 1 or 2.
Ring B: rear wiper

See also:
Access to the tools
The towing eye is installed in the boot under the floor. To gain access to it: open the boot, lift the floor and remove it, remove the towing eye from the holder. ...
Exceeding the programmed speed
Intentional or unintentional exceeding of the programmed speed results in flashing of this speed in the screen. Return to the programmed speed, by means of intentional or unintentional deceleration ...
Primary, secondary and tertiary safety of the highest level
The Peugeot 208 benefits from a high level of primary safety, through its road-holding and design ("head-up instrument panel", ESP as standard, cruise control/speed limiter on many versi ...