Misfuel prevention (diesel)
Mechanical device which prevents filling the tank of a Diesel vehicle with petrol. It avoids the risk of engine damage that can result from filling with the wrong fuel.
Located in the filler neck, the misfuel prevention device appears when the filler cap is removed.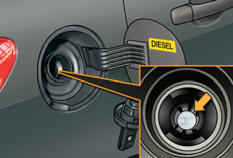 Operation
When a petrol filler nozzle is introduced into the fuel filler neck of your Diesel vehicle, it comes into contact with the flap. The system remains closed and prevents filling.
Do not persist but introduce a Diesel type filler nozzle.

It remains possible to use a fuel can to fill the tank.
In order to ensure a good flow of fuel, do not place the nozzle of the fuel can in direct contact with the flap of the misfuel prevention device and pour slowly.
Travelling abroad
As Diesel fuel pump nozzles may be different in other countries, the presence of the misfuel prevention device may make refuelling impossible.
Before travelling abroad, we recommend that you check with the PEUGEOT dealer network, whether your vehicle is suitable for the fuel pumps in the country in which you want to travel.
See also:
Location of child seats secured using the seat belt
In accordance with the European regulation, this table indicates the options for the installation of child seats secured using the seat belt and universally approved (a) depending on the weight ...
An extended e-HDi range
After its launch of the 508 and the new 308 in 2011, the 208 will benefit from the e-HDi technology on 4 of its 5 diesel power trains. Fast, effective and silent, this new generation Stop&Star ...
Emergency braking
In the event of a failure of the main service brake or in an exceptional situation (e.g. driver taken ill, under instruction, etc) a continuous pull on the control lever A will stop the vehicle ...