6-speed manual gearbox
Engaging 5 th or 6 th gear
Move the lever fully to the right to engage 5 th or 6 th gear.
Engaging reverse gear
Raise the ring under the knob and move the gear lever to the left then forwards.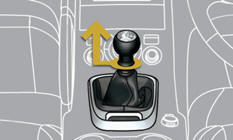 Only engage reverse gear when the vehicle is stationary with the engine at idle.
As a safety precaution and to facilitate starting of the engine:
- always select neutral,
- press the clutch pedal.
See also:
Removal
To remove the mat on the driver's side: move the seat as far back as possible, unclip the fixings, remove the mat. Refitting To refit the mat on the driver's side: position the ...
Closing
Take the blind by its handle and pull it forwards to the required position. ...
Parking sensors
This system indicates the proximity of an obstacle (person, vehicle, tree, gate, etc.) which comes within the field of detection of sensors located in the bumper. Certain types of obstacle (stake ...