6-speed manual gearbox
Engaging 5 th or 6 th gear
Move the lever fully to the right to engage 5 th or 6 th gear.
Engaging reverse gear
Raise the ring under the knob and move the gear lever to the left then forwards.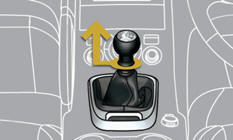 Only engage reverse gear when the vehicle is stationary with the engine at idle.
As a safety precaution and to facilitate starting of the engine:
- always select neutral,
- press the clutch pedal.
See also:
Monitoring
Instrument panel A. With the ignition on, the fuel gauge needle should indicate the level of fuel remaining. B. With the engine running, its associated low level warning lamp should go off. C. ...
Cruise control "CRUISE"
1. Selecting cruise control mode. 2. Decrease the programmed value. 3. Increase the programmed value. 4. Cruise control Off / Resume. In order to be programmed or activated, the vehicle speed mu ...
Horn
Audible warning to alert other road users to an imminent danger. Press one of the spokes of the steering wheel. Use the horn moderately and only in the following cases: - immediate danger, ...