6-speed manual gearbox
Engaging 5 th or 6 th gear
Move the lever fully to the right to engage 5 th or 6 th gear.
Engaging reverse gear
Raise the ring under the knob and move the gear lever to the left then forwards.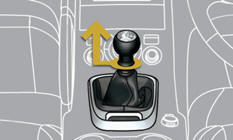 Only engage reverse gear when the vehicle is stationary with the engine at idle.
As a safety precaution and to facilitate starting of the engine:
- always select neutral,
- press the clutch pedal.
See also:
Hazard warning lamps
A visual warning by means of the direction indicators to alert other road users to a vehicle breakdown, towing or accident. Press this button, the direction indicators fl ash. They can operate w ...
Selection
To select a memorised speed: press and hold button " + " or "- "; the system stops at the closest memorised speed, press and hold button " + " or "- &quot ...
Remote control problem
Following disconnection of the vehicle battery, replacement of the remote control battery or in the event of a remote control malfunction, you can no longer unlock, lock or locate your vehicle. F ...