6-speed manual gearbox
Engaging 5 th or 6 th gear
Move the lever fully to the right to engage 5 th or 6 th gear.
Engaging reverse gear
Raise the ring under the knob and move the gear lever to the left then forwards.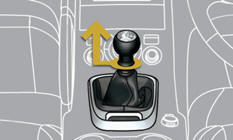 Only engage reverse gear when the vehicle is stationary with the engine at idle.
As a safety precaution and to facilitate starting of the engine:
- always select neutral,
- press the clutch pedal.
See also:
Travelling abroad
As Diesel fuel pump nozzles may be different in other countries, the presence of the misfuel prevention device may make refuelling impossible. Before travelling abroad, we recommend that you check ...
Displays in the instrument panel
The programmed information is grouped together in the instrument panel screen. 5. Speed limiter on / off indication. 6. Speed limiter mode selection indication. 7. Programmed speed value. 8. Sel ...
Instrument panel type 2
Dials 1. Rev counter. Indicates the speed of rotation of the engine (x 1000 rpm). 2. Coolant temperature. Indicates the temperature of the engine coolant (° Celsius). 3. Fuel level. Indicates ...