Parking sensors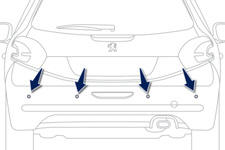 This system indicates the proximity of an obstacle (person, vehicle, tree, gate, etc.) which comes within the field of detection of sensors located in the bumper.
Certain types of obstacle (stake, roadworks cone, etc.) detected initially will no longer be detected at the end of the manoeuvre due to the presence of blind spots.
This function cannot, in any circumstances, take the place of the vigilance and responsibility of the driver.
See also:
Then one day someone has an idea.
What if, to make manoeuvring easier and increase driving sensations, the diameter of the steering wheel were reduced? And what if, to make it easier to read the information on the instrument panel ...
Misfuel prevention (diesel)
Mechanical device which prevents filling the tank of a Diesel vehicle with petrol. It avoids the risk of engine damage that can result from filling with the wrong fuel. Located in the filler neck ...
Lateral airbags
System which protects the driver and front passenger in the event of a serious side impact in order to limit the risk of injury to the chest, between the hip and the shoulder. Each lateral airba ...