Parking lamps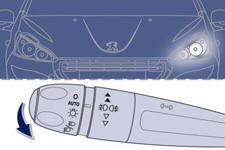 Side markers for the vehicle by illumination of the sidelamps on the traffic side only.
Within one minute of switching off the ignition, operate the lighting control stalk up or down depending on the traffic side (for example: when parking on the left; lighting control stalk upwards; the right hand sidelamps are on).
This is confirmed by an audible signal and illumination of the corresponding direction indicator warning lamp in the instrument panel. To switch off the parking lamps, return the lighting control stalk to the middle position or switch on the ignition.
See also:
Coolant level
The coolant level should be close to the "MAX" mark but should never exceed it. When the engine is warm, the temperature of the coolant is regulated by the fan. This can operate with th ...
Filling
A self-adhesive label on the inner face of the filler flap reminds you of the type of fuel to use depending on your engine. Additions of fuel must be of at least 5 litres to be registered by the ...
Horn
Audible warning to alert other road users to an imminent danger. Press one of the spokes of the steering wheel. Use the horn moderately and only in the following cases: - immediate danger, - o ...