Removing the cartridge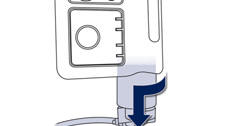 Stow the black pipe.
Detach the angled base from the white pipe.
Support the compressor vertically.
Unscrew the cartridge from the bottom.
Beware of discharges of fluid. The expiry date of the fluid is indicated on the cartridge. The sealant cartridge is designed for single use; even if only partly used, it must be replaced. After use, do not discard the cartridge into the environment, take it to an authorised waste disposal site or a PEUGEOT dealer. Do not forget to obtain a new sealant cartridge, available from PEUGEOT dealers or from a qualified workshop.
See also:
Description of the kit
A. "Sealant" or "Air" position selector. B. On "I" / off "O" switch. C. Deflation button. D. Pressure gauge (in bar or p.s.i.). E. Compartment housing: - ...
Checking levels
If a level drops significantly, have the corresponding system checked by a PEUGEOT dealer or a qualified workshop. Check all of these levels regularly, in line with the servicing booklet and the ...
Engine oil level indicator
This information is displayed for a few seconds when the ignition is switched on, after the service information. The level shown will only be correct if the vehicle is on level ground and the ...