Removing the cartridge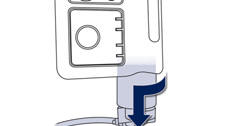 Stow the black pipe.
Detach the angled base from the white pipe.
Support the compressor vertically.
Unscrew the cartridge from the bottom.
Beware of discharges of fluid. The expiry date of the fluid is indicated on the cartridge. The sealant cartridge is designed for single use; even if only partly used, it must be replaced. After use, do not discard the cartridge into the environment, take it to an authorised waste disposal site or a PEUGEOT dealer. Do not forget to obtain a new sealant cartridge, available from PEUGEOT dealers or from a qualified workshop.
See also:
Primary, secondary and tertiary safety of the highest level
The Peugeot 208 benefits from a high level of primary safety, through its road-holding and design ("head-up instrument panel", ESP as standard, cruise control/speed limiter on many versi ...
Petrol engines and gearboxes
* The maximum power corresponds to the type approved value on a test bed, under the conditions defined in European legislation (directive 1999/99/CE). ** Overseas export. ...