Removing the cartridge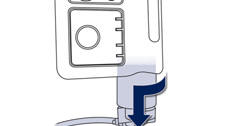 Stow the black pipe.
Detach the angled base from the white pipe.
Support the compressor vertically.
Unscrew the cartridge from the bottom.
Beware of discharges of fluid. The expiry date of the fluid is indicated on the cartridge. The sealant cartridge is designed for single use; even if only partly used, it must be replaced. After use, do not discard the cartridge into the environment, take it to an authorised waste disposal site or a PEUGEOT dealer. Do not forget to obtain a new sealant cartridge, available from PEUGEOT dealers or from a qualified workshop.
See also:
Access to the tools
The towing eye is installed in the boot under the floor. To gain access to it: open the boot, lift the floor and remove it, remove the towing eye from the holder. ...
Automatic gearbox
The gearbox does not require any maintenance (no oil change). Refer to the servicing booklet for details of the level checking interval for this component. ...
Fuel supply cut-off
Your vehicle is fitted with a safety system that cuts off the supply of fuel in the event of an impact. ...