Towing your vehicle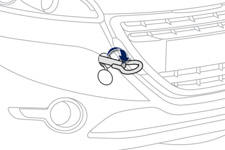 On the front bumper, unclip the cover by pressing at the bottom.
Screw the towing eye in fully.
Install the towing bar.
Place the gear lever in neutral (position N on an electronic gearbox or automatic gearbox). Failure to observe this instruction could result in damage to certain components (braking, transmission...) and the absence of braking assistance the next time the engine is started.
Unlock the steering by turning the key in the ignition one notch and release the parking brake.
Switch on the hazard warning lamps on both vehicles.
Move off gently, drive slowly and for a short distance.
See also:
A very charismatic front face
The front face, a true genetic signature, unveils a new, particularly charismatic face of the Marque. Its feline expression is more modern, rich and refined, with, in particular (according to vers ...
Deadlocking
Deadlocking renders the exterior and interior door controls inoperative. It also deactivates the manual central control button. Therefore, never leave anyone inside the vehicle when it is deadlocke ...
Warning lamps
When the engine is running or the vehicle is being driven, the illumination of one of the following warning lamps indicates a fault which requires action on the part of the driver. Any fault resu ...