Towing your vehicle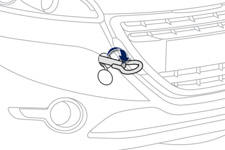 On the front bumper, unclip the cover by pressing at the bottom.
Screw the towing eye in fully.
Install the towing bar.
Place the gear lever in neutral (position N on an electronic gearbox or automatic gearbox). Failure to observe this instruction could result in damage to certain components (braking, transmission...) and the absence of braking assistance the next time the engine is started.
Unlock the steering by turning the key in the ignition one notch and release the parking brake.
Switch on the hazard warning lamps on both vehicles.
Move off gently, drive slowly and for a short distance.
See also:
6-speed electronic gear control gearbox
This 6-speed gearbox offers a choice between the comfort of fully automatic operation or the pleasure of manual gear changing. 1. Gear lever. 2. Button "S" (sport) . 3. Steering mou ...
Advice on child seats
in a vehicle compromises the child's protection in the event of an accident. Remember to fasten the seat belts or the child seat harnesses keeping the slack relative to the child's body to ...
Closing
Take the blind by its handle and pull it forwards to the required position. ...