Towing your vehicle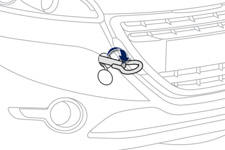 On the front bumper, unclip the cover by pressing at the bottom.
Screw the towing eye in fully.
Install the towing bar.
Place the gear lever in neutral (position N on an electronic gearbox or automatic gearbox). Failure to observe this instruction could result in damage to certain components (braking, transmission...) and the absence of braking assistance the next time the engine is started.
Unlock the steering by turning the key in the ignition one notch and release the parking brake.
Switch on the hazard warning lamps on both vehicles.
Move off gently, drive slowly and for a short distance.
See also:
Distance alert
1. Distance alert on /off. 2. Alert value increase / decrease. The adjustments must be made with the engine running and the vehicle stationary. ...
A low consumption and ultra-efficient version
Pulling together the very essence of the A9 project by reviewing every aspect of design, the low consumption version achieves an aerodynamic performance (Cx de 0,29 ) thanks to the optimisation of ...
Additional lighting
Other lamps are installed to fulfil the requirements of particular driving conditions: - a rear foglamp to better signal the presence of the vehicle in foggy conditions, - front foglamps with corner ...