Towing your vehicle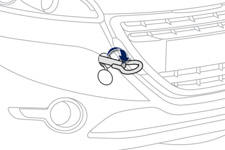 On the front bumper, unclip the cover by pressing at the bottom.
Screw the towing eye in fully.
Install the towing bar.
Place the gear lever in neutral (position N on an electronic gearbox or automatic gearbox). Failure to observe this instruction could result in damage to certain components (braking, transmission...) and the absence of braking assistance the next time the engine is started.
Unlock the steering by turning the key in the ignition one notch and release the parking brake.
Switch on the hazard warning lamps on both vehicles.
Move off gently, drive slowly and for a short distance.
See also:
Monitoring
Instrument panel A. With the ignition on, the needle should indicate the level of fuel remaining. B. With the engine running, its associated low level warning lamp should go off. C. With the igni ...
Locking the vehicle Normal locking
Using the key Turn the key towards the rear of the vehicle to lock the vehicle completely. Using the remote control Press the closed padlock to lock the vehicle completely. Maintaining ...
An interior offering day-to-day practicality
This interior offers no less day-to-day practicality as a result, with numerous well-thought-out storage compartments, such as the deep compartment situated in front of the gear lever which can be ...