Wipers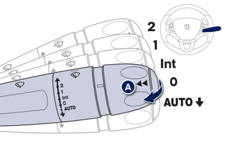 Control stalk A: windscreen wipers
2. Fast wipe.
1. Normal wipe.
Int. Intermittent wipe.
0. Park.
AUTO Automatic wiping.

Single wipe: Brief pull on the stalk towards. Screenwash: Long pull on stalk towards you.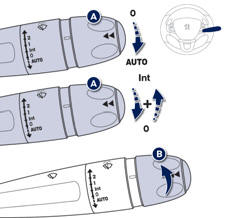 Switching on "AUTO" mode

Briefly push the stalk downwards.
Switching off "AUTO" mode

Briefly push the stalk downwards or place the stalk in another position: Int, 1 or 2.
Ring B: rear wiper

See also:
Changing a fuse
Access to the tools The extraction tweezer is fitted to the back of the dashboard fusebox cover. For access to it: open the glove box lid, push the opening guide to the left to open to beyond ...
Instrument panel navigator associated with the Peugeot Connect Media
This group of buttons permits: - when stationary , configuration of the vehicle's equipment and of the parameters of the central screen (languages, units...), - while driving , scrolling of t ...
Toll card / car park ticket windows
Facility for affixing toll cards and/or car park tickets. These windows are located on each side of the base of the rear view mirror. They are two non-reflective areas of the athermic windscreen. ...