Very cold climate screen
Removable protective screen which prevents the accumulation of snow at the radiator cooling fan.
Before fitting or removing the screen, ensure that the engine is off and the cooling fan has stopped. It is recommended that the screen be fitted and removed by a PEUGEOT dealer or a qualified workshop.
Fitting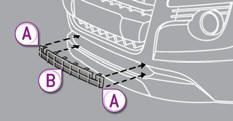 Offer up the screen to the front of the lower section of the front bumper (do not use the upper ventilation grille position).
Press on the edges A to engage its fixing clips.
Press on the middle at B to complete the engagement of the fixing clips.
Removal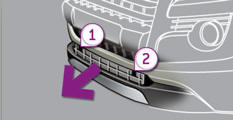 Pull on the very cold climate screen using the cut-outs 1 then 2 at the edges of the screen.
Do not forget to remove the very cold climate screen:
- when the ambient temperature exceeds 10° C,
- when towing,
- at speeds above 75 mph (120 km/h).
See also:
General recommendations
Observe the legislation in force in your country. Ensure that the weight of the towing vehicle is higher than that of the towed vehicle. The driver must stay at the wheel of the towed vehicle. Dri ...
Directional lighting
When the dipped or main beam headlamps are on, this function enables the light beams to provide improved lighting of the side of the road when cornering. The use of this function, from approximatel ...
Advice on child seats
The incorrect installation of a child seat in a vehicle compromises the child's protection in the event of an accident. Remember to fasten the seat belts or the child seat harnesses keeping the ...