Very cold climate screen
Removable protective screen which prevents the accumulation of snow at the radiator cooling fan.
Before fitting or removing the screen, ensure that the engine is off and the cooling fan has stopped. It is recommended that the screen be fitted and removed by a PEUGEOT dealer or a qualified workshop.
Fitting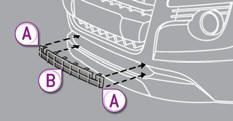 Offer up the screen to the front of the lower section of the front bumper (do not use the upper ventilation grille position).
Press on the edges A to engage its fixing clips.
Press on the middle at B to complete the engagement of the fixing clips.
Removal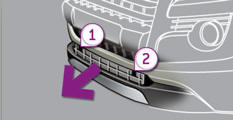 Pull on the very cold climate screen using the cut-outs 1 then 2 at the edges of the screen.
Do not forget to remove the very cold climate screen:
- when the ambient temperature exceeds 10° C,
- when towing,
- at speeds above 75 mph (120 km/h).
See also:
A spacious and bright passenger co mpartment
The passenger compartment has been designed to ensure that a sense of space and brightness predominates, making occupants feel they don't want their journey to end. The interior dimensions and e ...
High level safety on al co unts
Whether in terms of primary, secondary or tertiary safety, the new 308 is positioned at the highest level. Firstly, the excellent rigidity of the structure ensures optimal operation of the wheel ...
Towing the vehicle
Procedure for having your vehicle towed or for towing another vehicle using a removable towing eye. ...